Kaş is one of the most famous diving destinations in the Mediterranean. The rocky shore with its reefs, caves, tunnels and canyons, the underwater remains of sunken cities and ship wrecks, and the rich underwater flora and fauna easily visible in the crystal-clear water attract divers from March until the end of the year. Courses at all levels are taught in Turkish, English, German and French.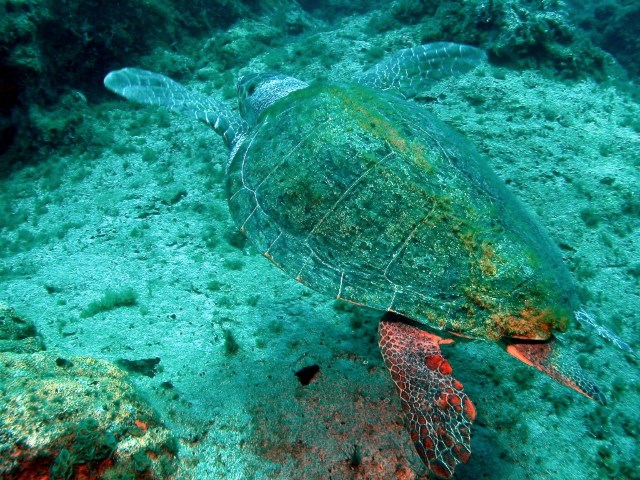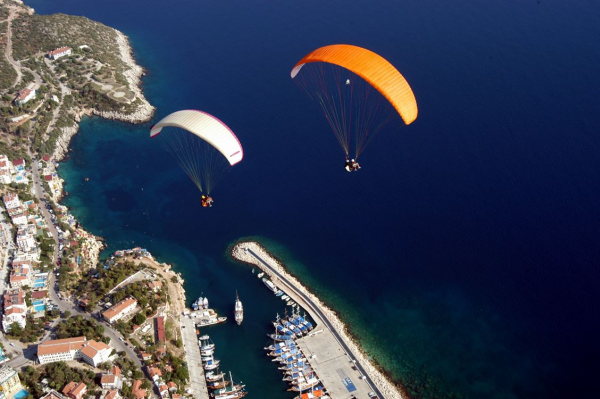 A bird's eye view and the closest feeling to being an eagle, paragliding is the ultimate way to fly. With modern and secure equipment, an experienced pilot it takes only a little tuition and a few steps from the 590 m high of Kırdavlı Tepe above Kaş to be airborne. Rising on warm currents one has a magnificent view of Kaş, the coastline, its little islands and Meis. Paragliding is offered whenever the weather permits.
By sea kayaking otherwise unreachable locations can be explored. Kaş'centres offer different daily routes around Kaş and Üçağız/Simena (sunken city). Paddling along quietly one sees Lycian remains on the shores and under water, beautiful little beaches and turquoise blue water. Seakayaking is aunique way to explore, allowing you to get close to the sea and nature, lots of birds and occasionally turtles and dolphins. Guided tours are available throughout the year.
Along 15 kms on Eşen River, canoeing goes down slowly in the nature and ends up at Patara beach. During the trip, you can have a mud bath.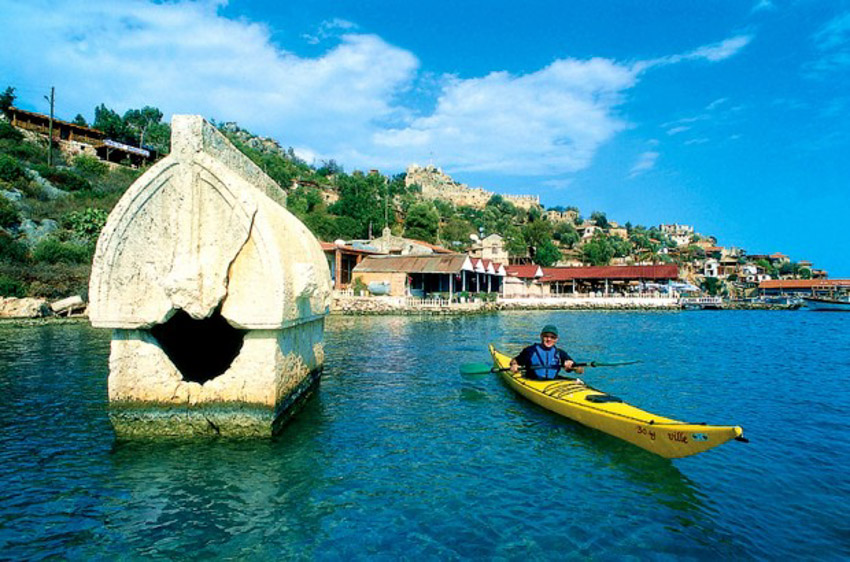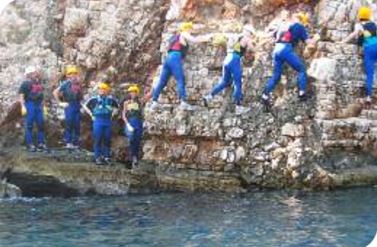 Coastal Hiking / Climbing
Entering a gorge or canyon running with water you are sometimes walking, sometimes sliding into pools, jumping and abseiling through the canyon using ropes and wearing the appropriate gear. You need to bequite fit for a day trip or a two day trip down Saklıkent canyon. Tours are available year round. Kıbrıs Deresi and Hacıoğlan canyons are interesting.
A relatively new sport in Kaş with facets and courses for beginners and harder climbs for the more experienced. A few good climbs on the ridge overlooking Kaş, called the Sleeping Giant (Uyuyan Dev) reward you with a marvellousvista. In winter there are combinations of walking and easy snow and ice climbingtours.
Likya Walking and Trekking
One of the Sunday Times ten best walks is the 'LycianWay' from Antalya to Fethiye. From Kaş different routes can be taken East and West, walking on antique Lycian paths through canyons, plains and valleys and exploring Lycian settlements and local villages. Trekking is possible year round with appropriate gear. Guides are available to lead you on daily or longer tours if you wish so.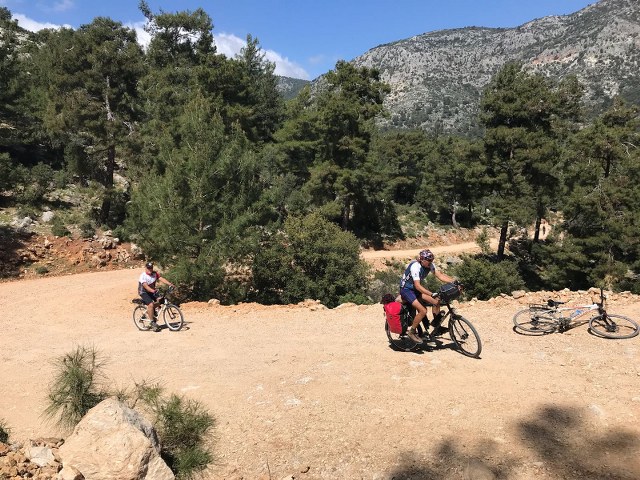 A mountain biking day shows you the life behind the Toros. On a mixture of off-road and on road you explore valleys, canyons, streams, villages and Lycian ruins. For your leg work you are rewarded with mountain vistas and stunning views of the Mediterranean shoreline. Guided tours are available year round from easy to hard.
Another way to explore the surroundings of Kaş is to join one of the Jeep Safaris and experience the wildlife, countryside,villages, people, and mountains without any physical efforts. Guided tours are available year round.